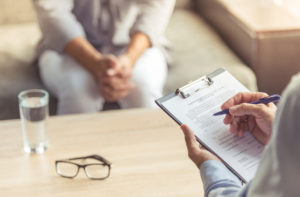 To become a Registered Counsellor (RC), only Clinical Member can submit application via online portal:-
A one-time admin fee of $50 is applicable for the application of Clinical Membership (Registered Counsellor).

Have a valid Professional Indemnity Insurance ("PI") cover from your company or insured under SAC's AIG Group Insurer (New Requirement w.e.f. March 2015 – Please see Article 5.5 of the SAC Constitution).  You can also apply for exemption.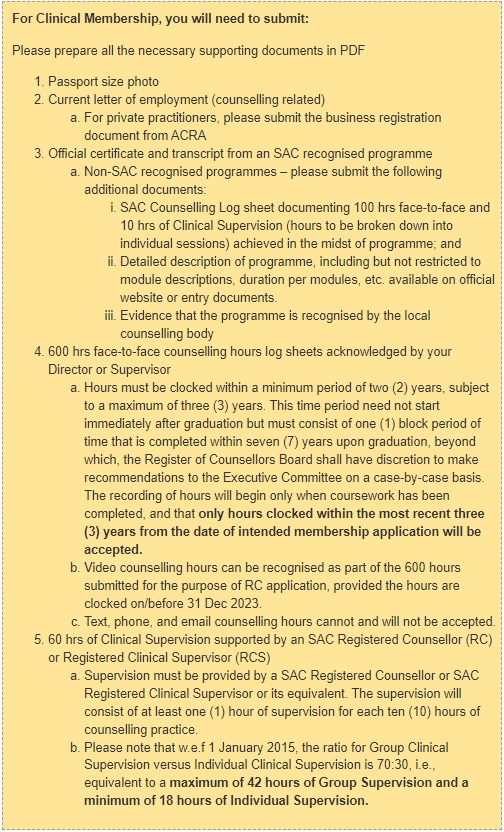 Remarks: For supervision hours clocked with a non-SAC Registered Counsellor (RC) / Registered Clinical Supervisor (RCS), please submit a copy of the CV together with the log sheets and online application form for evaluation. We regret that we are unable to pre-approve CVs submitted via email prior to receiving the membership application and supporting documents.
*2-YEARLY RENEWAL OF REGISTERED COUNSELLOR STATUS
According to Article 5.3 of the SAC Constitution, for each two-year period registered as a SAC Registered Counsellor, the registrant shall renew by fulfilling the following requirements via online:-
Complete fifty (50) hours of Continuing Professional Education

For each course/workshop/seminar, please upload a certificate OR letter of attendance (on official letterhead) in PDF format

Complete four hundred (400) hours of face-to-face counselling (please ensure that your log sheets are properly kept and made available upon request for audit purposes).

Have a valid Professional Indemnity (PI) Insurance